Galapagos M/V Evolution Motoryacht 8 Tage/7 Nächte Kreuzfahrt "in the Steps of Pirates & Darwin"
Gewünschten Termin bitte anklicken für Ihre Anfrage:
"Weltweit buchbar zu Vorort Preisen!"
Kabinen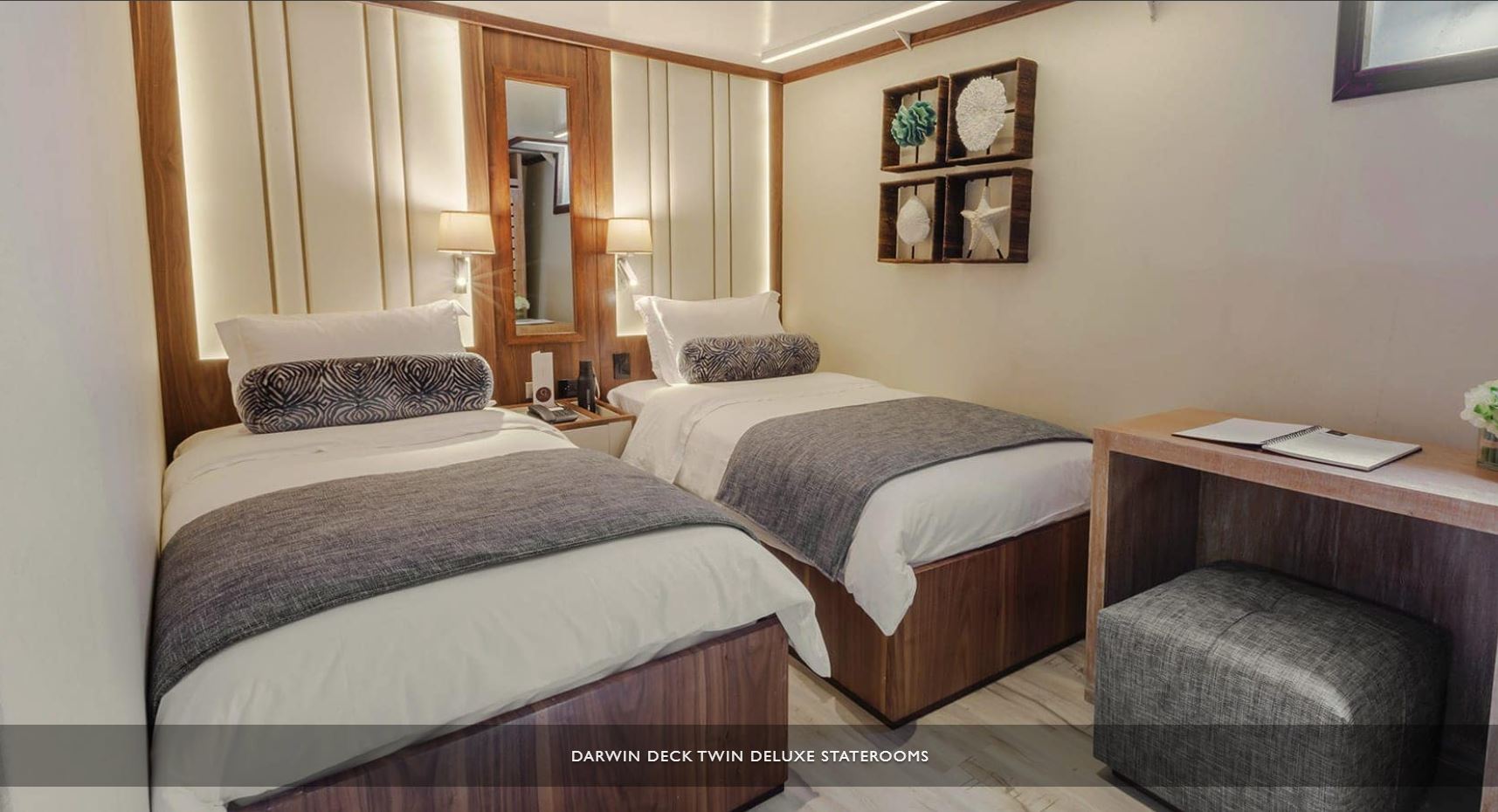 Deluxe Kabine
zwei Personen, Ehebett oder zwei Einzelbetten (umstellbar), eigenes Bad und Klimaanlage
p.P. 8469 EUR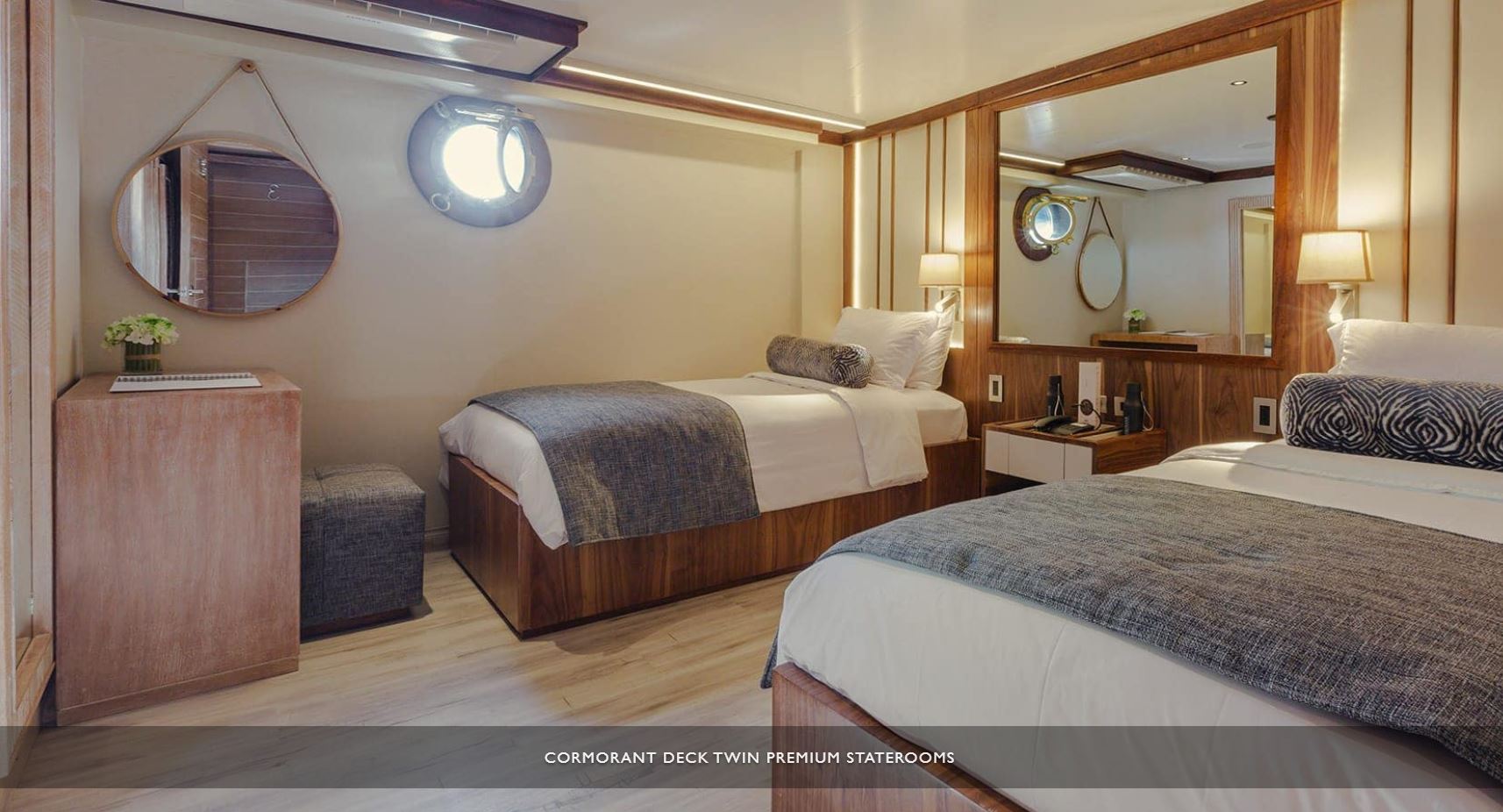 Premiumkabine
zwei Personen, Ehebett oder zwei Einzelbetten (umstellbar), eigenes Bad und Klimaanlage
p.P. 9087 EUR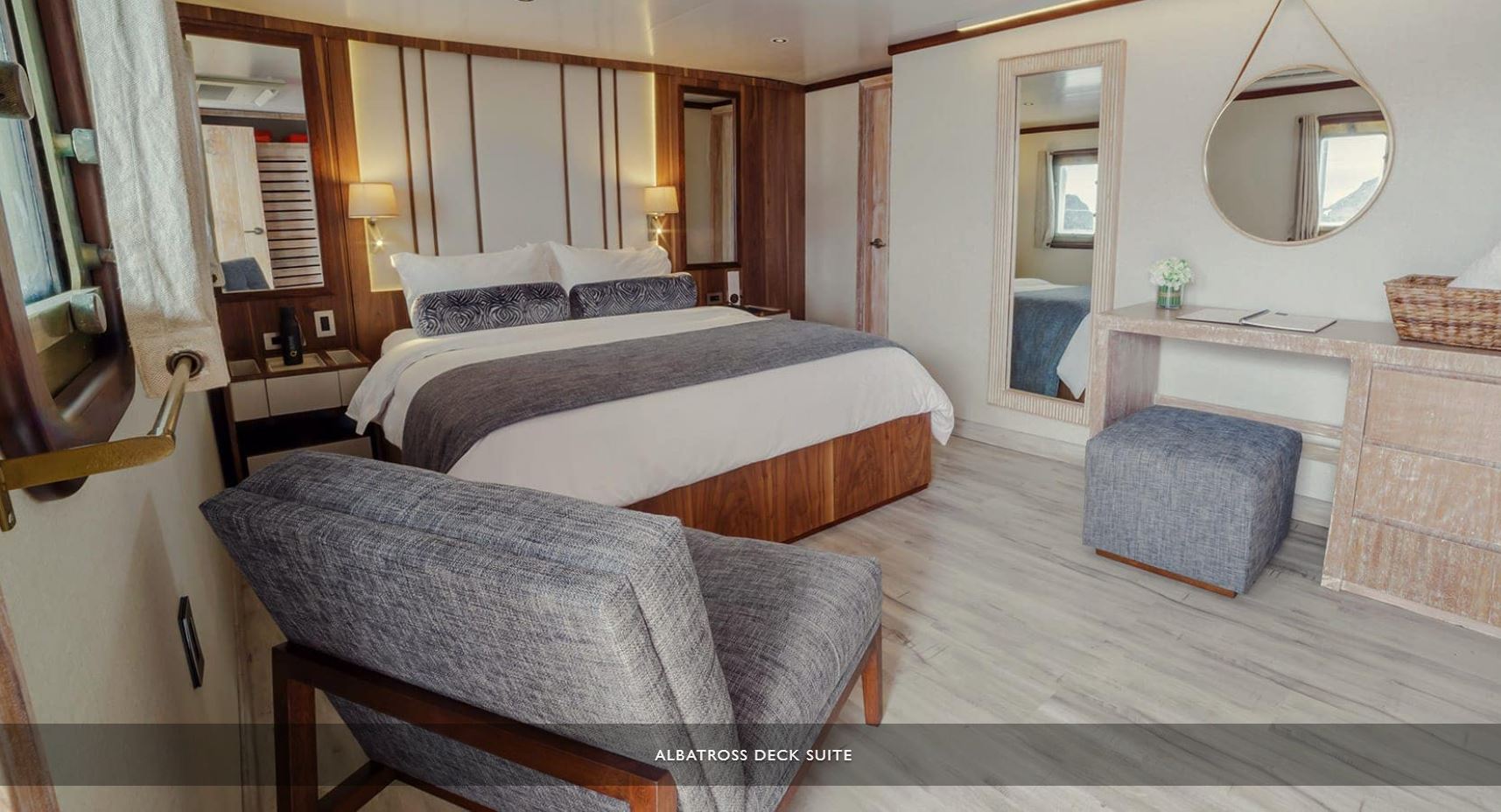 Suite
zwei Personen, Ehebett oder zwei Einzelbetten (umstellbar), eigenes Bad und Klimaanlage
p.P. 9810 EUR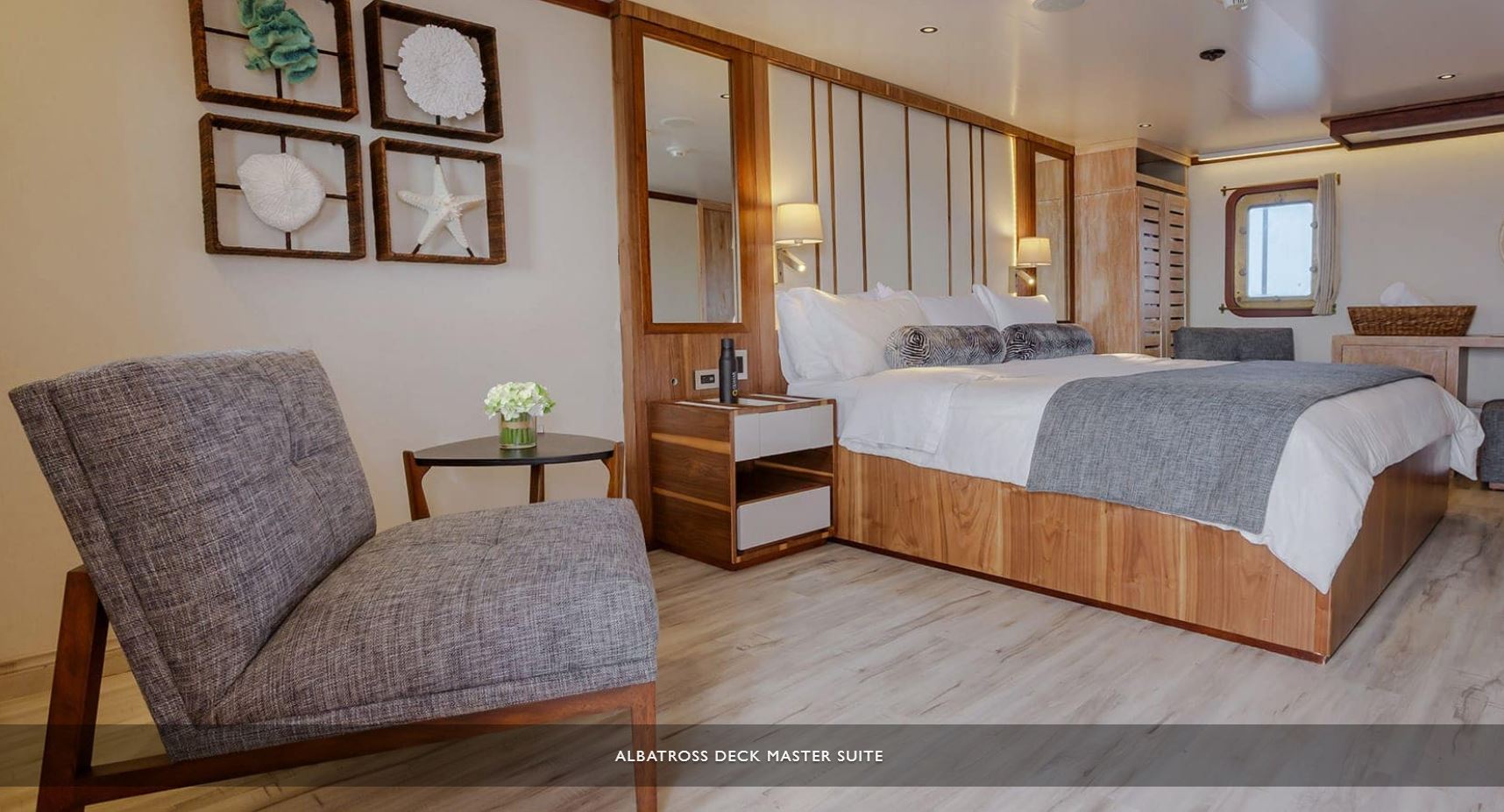 Mastersuite
zwei Personen, Ehebett, eigenes Badezimmer und Klimaanlage
p.P. 10231 EUR
Enthalten:
Alle Mahlzeiten an Bord und alkoholfreie Getränke (Wasser, Kaffee, Tee).
Alle Ausflüge wie in den Programmen angegeben.
Transfers (auf Galapagos) zum / vom Schiff bei Ankunft auf empfohlenen Flügen
Englisch sprechender Naturführer (Galapagos National Park Certified)
kostenloser Verleih von Schnorchelausrüstung
Nicht enthalten:
Trinkgelder für Führer und Besatzung (Tipps)
Galapagos-Flugtickets (Flüge)
Eintrittsgelder für Galapagos (geschätzte 100 US-Dollar pro Person, können sich jedoch ändern)
Transit Card (geschätzte 20 US-Dollar, kann sich aber ändern); Persönliche Reiseversicherung.
---
Fotos
---
Deckpläne
---
Route
Kreuzfahrten können sich aufgrund der Wetterbedingungen oder der Bestimmungen des Galapagos-Nationalparks ändern.
---
M/V Evolution Motoryacht
Schiffstyp:
Kreuzfahrtschiff
Schiffsklasse:
Luxuskreuzfahrten
Baujahr:
1997
Kapazität:
32 Passagiere
Länge:
60 m
Geschwindigkeit:
12 knots
Elektrizität:
110 V + 220 V
Ausstattung:
Einzelkabine
Kabinen mit Zwischentüren
Kayaks an Bord
Internet / WIFI
Schnorchelausrüstung (gratis)
Neoprenanzüge
Sonnendeck mit Whirlpool
Stand-Up Paddle Boards
Klimaanlage & privates Bad
Alle Mahlzeiten
Englischsprachiger Guide
Die preisgekrönte M/V Evolution Yacht
- exklusiv für nur 32 Gäste -

Erleben Sie die Galapagosinseln in geräumigem Komfort und Privatsphäre an Bord einer Yacht, die die Spuren von Darwin zurückverfolgt. Die Evolution kreuzt den Archipel mit den Linien und dem Stil der 20er Jahre und bietet gleichzeitig die besten Annehmlichkeiten und den besten Service der Neuzeit.
Genießen Sie an Bord der Evolution ein Gefühl entspannter Freiheit mit 360-Grad-Außenumgehungen, kürzlich renovierten, geräumigen Suiten und unvergleichlicher familiärer Gastfreundschaft. Darwins Entdeckungen werden von Naturführern mit 15 Jahren Erfahrung zum Leben erweckt.
Wichtige Information: Es gibt neben der angegebenen Kreuzfahrtroute 8 Tage/7 Nächte "in the Steps of Pirates & Darwin" eine zusätzliche 8 Tage/7 Nächte Route "Footsteps back in time", die zu einer 15 Tage/14 Nächte Route kombiniert werden kann. Die Grafik dieser Route siehe unter Fotos. Der Preis ist entsprechend dann zu verdoppeln. Gerne geben wir Ihnen auf Wunsch nähere Informationen!
Herr Frobeen kann Ihnen genaue Informationen über die Schiffe geben.
Herr Frobeen berät Sie gerne telefonisch unter +49 (0)7633 9399360 oder per E-Mail info@frobeen.de
Wenn Sie buchen möchten, wie sehen die Zahlungsmodalitäten aus?
Die Reservierung ist als Option kostenlos.

Wenn Sie eine feste Buchung vornehmen, ist eine Anzahlung in Höhe von 20% fällig.

Die Restzahlung ist 4 Wochen vor Reiseantritt fällig. In Einzelfällen, wie z.B. Tauchkreuzfahrten gelten andere Regeln. Informationen auf Anfrage.
Ihre Zahlungen sind über eine Versicherung gegen Insolvenz abgesichert!